Loose ends
I need to get my blogosphere back in order here. It's taken me 2 weeks to write about my NY trip (and I'm still not done), I haven't done any Christian updates, I didn't blog about what I did last weekend and I have totally neglected my photo Friday duties. Talk about being a slacker! Well, since I need to get things back in order, this will be the catch-up blog where I will try and tie up all the loose ends.
Ok, first thing, Photo Friday. I've missed out on the past 3 weeks of photo Fridays, so I will submit them all now. Ha ha. Ok, let's see, on May 12th it was "your best travel photo", then on May 19th, it was "Hats", then on May 26th, it was "Grace"
so here are those pictures: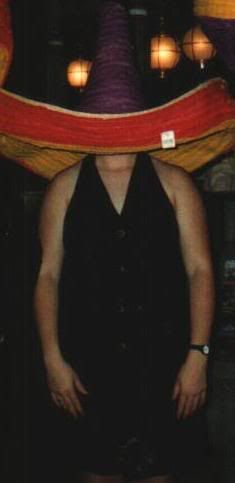 today's theme is: "We want to see a wacky thing that your hometown (or current town) is known for or just something crazy that you go by every day and think 'I can't believe somebody did that/put that there.' You can make it something you love or something you hate or something you love to hate". Unfortunately, since I just found this out, I don't have anything to submit (there goes another late submission). Besides, I can't think of anything right now.
Ok, time for a Christian update: We have toothage! I was feeding him his baby food yesterday when I noticed something white in his mouth. Since he refuses to show me his lower gums, I had to get creative to see what was going on in there. Every time I pulled his lip down to see, he would stick his tongue out, so that wasn't happening. I had to wash my hands and stick a finger in his mouth so I could feel around for the gold. Aha! I felt little serrated edges! So yes, his lower left tooth is finally out and it appears that its next door neighbor is knocking on the door, so we should have two teeth soon. Yay! Now if only I could get a picture of it. I'll have to pull his lip down while he's sleeping...hee hee. When I put my hand out, he gives me five and he also blows kisses now, very cute. I'm working on teaching him to clap his hands. I read somewhere that he should be waving bye-bye too. He doesn't do that yet, but that's cause we've never really taught him to, so I think I'll start showing him how. If he's lying on a pillow, he is able to sit up by himself. I'm currently teaching him how to sit up from a lying flat position and he seems to get the mechanics of it, but still needs me to get the ball rolling if you will (or get the boy rolling in this case..ha ha). On the crawling front, well, there is no crawling. He (still) hates tummy time, so I don't see that happening. My mom says that I skipped the crawling stage altogether, so let's see if he takes after his mama.
Weekend re-cap: Annie is one of my favorite movies of all time. My mom took me to the movies to see it when I was a child and I guess we have come full circle, because last weekend I took her to see the musical. We saw it on Saturday at the
Gusman Center for the Performing Arts
. I don't know if I was more enthralled by the musical or by the actual theatre. It was so beautiful! The architecture was breathtaking and I seemed like a child because I kept looking all around with a look of amazement on my face. The ceiling of the theatre actually had little stars on it, so you felt like you were outside. Very cool. Anyway, I loved the show, but I always get a little teary eyed at the beginning because I've got a soft spot for orphans. Yes, I'm quite backwards, I cry at the beginning, not at the end. Go figure.
On Monday, we went to our friends Damian and
Lisa
's place. It was Christian's
first
time in a pool (of the non-inflatable type) and he had a blast! At first, we put him in a little inflatable
boat
and he didn't like that too much, but he started to enjoy himself once I held him in my arms. He loved the pool and loved to sit on the ledge and then "jump" in to the pool. Afterwards we went back to
Damian
and Lisa's house for a BBQ. Christian had a great time with his friends
Andrew
and
Sophie
.
Brandon
and
Rebeka
were also there to add to the
chaos
excitement.
And last but not least, the continuation of the NY story. We last left off when we were all dying of exhaustion and we had to go back to the bar that we had been to the night before to drop some stuff off. We got back to the bar to give some things to our favorite bar tender Joaquin and thank him profusely for his generosity and for not laughing at what dorks we had been the night before. After the bar, we walked over to a diner that was nearby and decided to have dinner there. The service was horrible, but we entertained ourselves by stacking our food into a work of art. Since we weren't able to go to the MoMA, we made our own
MA
. After our dining and sculpting we dragged our 100 pound feet back to the bus stop. Up until this point, I had noticed that all the bus drivers we had gotten were old and ugly, but alas, what do we have here? I sat at the front of the bus admiring the youthful cutie that was driving the bus. I was 5 minutes into my stare-fest when I noticed that the bus driver had a convenient little mirror where he could see what every one in the bus was doing (it's called a rearview mirror claudia). So yea, I got busted. Oh well, whatever. Hee hee, at least I wasn't panting or drooling. The next day, we woke up even later (notice the trend here, each day we woke up later and later...ha ha) and we packed our bags. We had to get a little creative because the girls (yeah, ok Claudia, blame it on the girls) had bought waaay too much stuff and their suitcases were waaaay too small. After we smooshed our stuff into the suitcases, we headed out for our last day of shopping. Yes, even though I just told you that our bags were full. What can I tell you, we just don't learn. We made a quick stop at
Serendipty
and then hit the stores that we had missed the previous day. I bought a bunch of cute outfits for Chris like
this
one and bought some souvenirs to bring back to my co-workers and family. We were supposed to be back at the apartment at 3pm so that we could make our flight, but we didn't get back until 4pm-ish. Fortunately someone was looking out for us because we took a
taxi
(note the bags under our eyes) to the airport and made it there in about 20 minutes (instead of the hour+ that was predicted)! We got there with an hour to spare before boarding time and all was wonderful. The flight back was uneventful and we had a wonderful time and that my friends is the end of the story. Thanks for tuning in.