It's hot in Miami this morning
I'm so glad that I live in Miami, there's never really a dull moment here. Sure, it's hot, but that is much appreciated around January and February when everyone else is freezing. But this post is not about that kind of hot.

You see, this morning, on my way to work, I spotted several guys walking around in ties, underwear, black socks and shoes (see, I told you, never a dull moment). I kept my eye on them trying to figure out what they were up to. Were they poor college students that sold the shirts off their back to buy their text books for next semester? Were they models on their way to an underwear job that got lost and got off on the wrong metrorail stop?

As I got closer, I noticed they had big signs with them that said "The suit off your back". There was one fellow with them that was fully clothed and he was taking pictures (to settle a bet? to prove that they did the dare?). As I walked up to them, he asked me and this other lady nearby to take a picture with the guys. Being the ever so cooperative citizen that I am, I said yes immediately. The other girl was a little more prudent and asked what it was for first. That's when one of the guys started explaining their whole reasoning for being out there.

I asked to take one more picture and told them I would blog about it (you know, because I'm such a socially conscious blogger), so here's the eye candy...and here's their cause.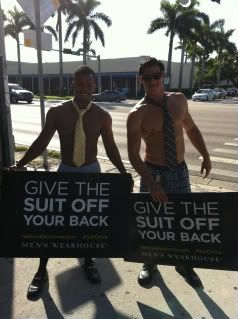 Men's Wearhouse is having a National Suit Drive. Bring your gently used professional attire to your local Men's Wearhouse to benefit at-risk men transitioning into the workforce. All donated items are given directly to nonprofit organizations to distribute throughout the community. They ask that all donations are in ready-to-wear condition, clean and on hangers for the clients. They are collecting the following men's professional items: suits, sport coats, slacks, dress shirts, dress shoes, sportswear, outerwear, ties and other accessories. Donations will be accepted until August 31st. Like them on Facebook and they'll donate $1 (upt to $10K) to the cause. To find out more visit nationalsuitdrive.com
Great cause, clever idea now why don't other companies think of this...hello? This beats the clown waving the giant arrow around any day. It also helps that they hired models instead of pulling the guys from accounting to go out there. It says on the flyer that it's a National Suit Drive. Does this mean that there will be half-naked models walking the streets all over the country? Ladies, get your cameras ready.